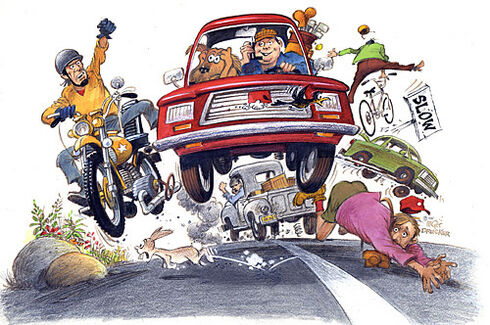 Dexterity • Trained Only • Manipulation
Use this skill to operate vehicles, from ground vehicles like cars to boats, planes, or even spaceships!
Routine tasks, such as ordinary operation of known vehicles, don't require a check and may even be done untrained for some vehicles, particularly common ones like cars. Make a check only when operating the vehicle in a stressful or dramatic situation like being chased or attacked, or trying to reach a destination in a limited amount of time.
You can also make Vehicle checks to perform various maneuvers with a vehicle:
TABLE: VEHICLES DIFFICULTIES
| DC | MANEUVER |
| --- | --- |
| 5 | Easy (low-speed turn) |
| 10 | Average (sudden reverse, dodging obstacles) |
| 15 | Difficult (tight turns) |
| 20 | Challenging (bootlegger reverse, loop, barrel roll) |
| 25 | Formidable (high-speed maneuvers, jumping or flying around obstacles) |
Note that the Vehicles skill does not cover riding animal mounts. For that, use the Expertise: Riding skill, based on Agility, with the same guidelines as given for Vehicles skill checks. At the Gamemaster's discretion, skills like Athletics can serve for riding mounts (perhaps with a circumstance penalty), especially if riding is a fairly uncommon skill, as it is in the modern world.
Reference
D20Hero SRD Skills article- http://www.d20herosrd.com/4-skills