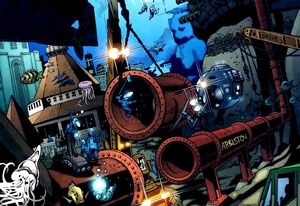 Sub Diego is the submerged portion of the city of San Diego.
History
Sub Diego had an increase in population due to the influx of refugees from Atlantis, following the destruction of that city by Doctor Doom. 
Event Statistics
The death toll of the "Sub Diego" event currently stands at 13,700. .
Sub Diego Districts
The regions, neighbourhoods and landmarks of old San Diego that are considered to now be part of "Sub Diego" include (but are not limited to):
the Gaslamp Quarter
the San Diego Zoo
the San Diego Convention Center
Coronado, including the U.S. Navy facilities thereon
Space and Naval Warfare Systems Center San Diego or SPAWAR
No map has yet been published to further clarify matters on this point, and to complicate furtherly matters an undisclosed part of the city was later returned to dry land.
It is notable that Sub Diego consists almost entirely of areas immediately affected by the International San Diego Comic-Con, considered the largest media-related convention in the western world.
Creatures of Sub Diego
Dolphin- Mutants and Masterminds 3e Hero's Handbook
Shark- Mutants and Masterminds 3e Hero's Handbook
Whale- Mutants and Masterminds 3e Hero's Handbook
References
Aquaman Wiki Sub Diego article- http://aquaman.wikia.com/wiki/Sub_Diego