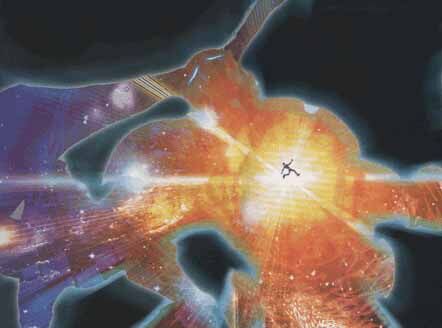 Exile Cluster
Adapted From Marvel.com Marvel Universe Article-http://marvel.com/universe/Marvel_Universe
The Exile Cluster is the collection of alternate universes which share a universal hierarchy; it is a subsection of the larger Omniverse, the collection of all alternate universes. A large variety of these universes were originated as forms of divergence from other realities, where an event with different possible outcomes gives rise to different universes, one for each outcome. Some can seem to be taking place in the past or future due to differences in how time passes in each universe. Often, new universes and dimensions are born due to time-traveling. Eternity once stated that there are almost infinite aspects of itself, thus establishing the Marvel's positioning then. Afterward, the Beyonder estimated there is a "seemingly endless number of dimensions" to thereafter explore the entire Multiverse and its "myriad planes." The Crossroads also leads to an infinite number of dimensions. In addition, the Molecule Man, who was almost omniscient, has also postulated that there are infinite parallel dimensions to Earth's universe that together comprise the Multiverse. Finally, it was later stated in the Book of the Vishanti, which details the Marvel cosmology, that there is "literally a transfinite number, that is, a number greater than infinity" of universes in the Multiverse. There is also a transfinite number of Multiverses. The Multiverse was further described as boundless by the Captain Universe.
Alternative Name(s)

Marvel Multiverse

Located Within
GEOGRAPHY
Dimensional planes of the Exile Cluster
Crossroads
Multiversal Nexus
Universes of the Exile Cluster
Reality where Humans and Mutants are fully reconciled.
A Marvel Reality on DC Geography
The Main Marvel Universe
M2149
ZombieVerse
FLORA & FAUNA
Multidimetional Entities
Eternity
NATURAL RESOURCES
Infinity Gems
References
Marvel.com Marvel Universe Article-http://marvel.com/universe/Marvel_Universe
Wikipedia Marvel Universe Article-http://en.wikipedia.org/wiki/Marvel_Universe
Trending pages
All items (3)